E-mail communication plays a crucial role in your WooCommerce online store operation. You can inform your customers about their order info and status with e-mails. However, WooCommerce's default e-mail templates are quite boring.
You can easily customize your e-mails and add a personal touch to them with a WooCommerce email customizer. This way, a personalized e-mail gives your brand a competitive advantage.
You may find many WooCommerce e-mail customizer plugins available online. As a result, choosing the right one to use for your online store is challenging. Therefore this article will shed some light on the best WooCommerce e-mail customizer plugins. Let's dive in.
The Importance of Customizing your WooCommerce E-mails
Entrepreneurs should understand the importance of establishing a distinctive brand identity for online businesses. You need a unique brand identity and a unique WooCommerce store design.
As with a personalized store design, a unique e-mail template can help you achieve this. Your e-mail templates should be consistent from the first signup e-mail to the transaction confirmation e-mail. Engage your customers with interactive and conversion-focused e-mails.
You could include seasonal products and discount offers in a single e-mail to get more sales. You can do that with a WooCommerce-email-customizer plugin.
So let's take a look at the best e-mail customizer for WooCommerce.
9 Best WooCommerce E-mail Customizer Plugin
Below are some of the best WooCommerce email-customizer plugins you should know about.
You can customize your WooCommerce e-mails using the fantastic YayMail plugin by YayCommerce. You can customize your WooCommerce e-mail to give it a polished look. With over 10,000 users, you always have access to technical support.
YayMail WooCommerce E-mail Customizer plugin offers a drag-and-drop e-mail builder and live preview option to see changes as they happen. You can add branding elements to transactional e-mails like a logo, unique color scheme, social media icons, and a footer with YayMail.
YayMail customizer lets you copy a single block or template to another WooCommerce e-mail without recreating it each time.
You can export and import the designs and layouts when you use YayMail on multiple websites and want to maintain brand consistency. It will save you a great deal of time.
Features
Live preview editing saves time without reloading the page
Provide enormous shortcodes for added functionality
The plugin comes with eleven default WooCommerce e-mail templates
Integrated drag-and-drop interface
Pricing
You can choose between a paid and a free version of the plugin. It costs $59 per year for one site with the paid version.
WordPress plugin E-mail Customizer for WooCommerce by ThemeHigh provides an easy-to-use e-mail builder.
You can drag and drop various items into your transactional e-mails. You can include text, images, social media icons, buttons, GIFs, billing and shipping info, and more in your e-mail.
In the e-mail builder, you can preview your modifications in real time as you make changes to the e-mail. As a result, you can see how your e-mails will appear on your customer's screen.
The plugin also provides 11 pre-built custom e-mail templates, allowing you to choose any e-mail type and customize it quickly. Additionally, it supports WPML, so you can create e-mails in multiple languages.
In addition, you can integrate it with other plugins like YITH WooCommerce Gift Cards. Ultimately, all these features make it the best WooCommerce e-mail customizer plugin.
Features
It comes with the option to preview the changes in real-time
E-mails can include multimedia
WooCommerce plugin compatibility
It features 11 pre-built Templates
It has WPML compatibility
Pricing
The plugin is available in the both free and paid version. The paid version will cost you $39 for a single site yearly.
WebToffee has developed the Decorator E-mail Customizer, a free WooCommerce e-mail customizer plugin. You can customize the format and appearance of your e-mails with this plugin.
You can add a logo, change the header and footer, change the content, heading, color, and more. You can add social network links to your Facebook, Twitter, or LinkedIn page.
You can also use shortcodes and placeholders to display more details in e-mails, such as the customer's name, order details, etc. The e-mail customizer further allows you to see how your changes look in real-time.
Features
Effortless editing with a simple layout and design
Easy customization of e-mail
It provides an option for altering the footer content
An option to view a live preview
Pricing
You can use this WooCommerce e-mail customizer plugin for free.
YITH is our next pick for the best WooCommerce e-mail customizer plug. You can manage, customize, and give your e-mails a professional look with YITH WooCommerce E-mail Templates. Further, you can add specific brand info to the template, like your logo, header, social media icons, footer, etc.
You can change the fonts, colors, and layouts using this WooCommerce plugin. The abundance of options allows you to build a beautiful and charming template. With the plugin, users can choose from different layouts and see a preview of the template they're editing.
Features
The logo insert option is available
There are four different layouts to choose from
Provides a preview of the template
Options for including social media links
Pricing
Purchasing the plugin for one site will cost you €79,99 per year.
With over 300,000 users, MailPoet is one of the most popular e-mail plugins for WooCommerce. It was specifically designed to work with both WooCommerce and WordPress e-mails.
Its user-friendly interface allows you to design stunning e-mails from scratch or pre-built templates. The drag-and-drop editing feature simplifies the customization process. The plugin allows you to control all necessary edits, including fonts, colors, and other features.
Mailpoint helps you improve the effectiveness of your WooCommerce e-mail marketing campaigns. You can think of it as a complete e-mail marketing package.
Features
Templates with an eye-catching design
A simple drag-and-drop customization process
The customization interface is easy to use
Compliant with the GDPR
Pricing
The Starter package of the plugin is free for up to 1000 subscribers. The Business package costs $10 per month for up to 500 subscribers.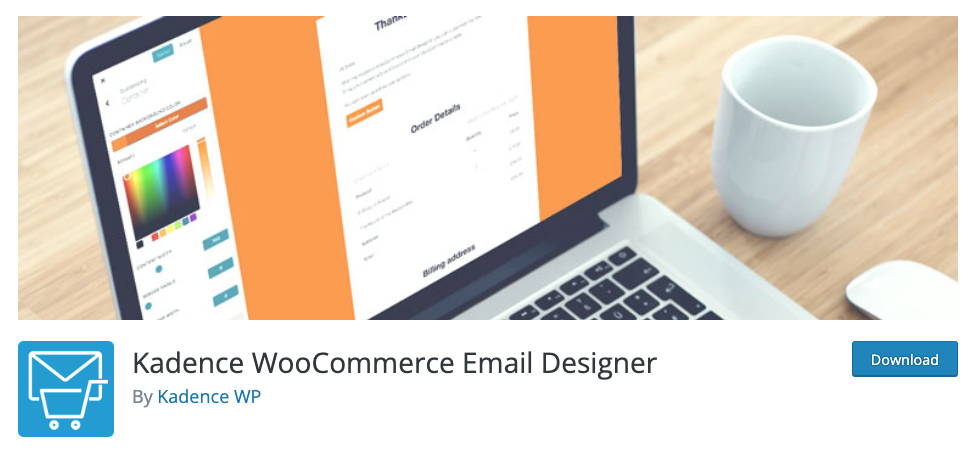 Kadence WooCommerce E-mail Designer also uses WordPress' customizer to make unique e-mails for your business.
The plugin gives you many customization options and a live preview of your WooCommerce e-mails. In addition, you can customize the layout, font choices, and color scheme of your e-mails. The plugin allows you to change the heading, subheading, and many other aspects.
Additionally, the plugin provides the capability of importing pre-made e-mail designs. Furthermore, Kadence offers a live preview and the option to send test e-mails. These features make it the best free WooCommerce e-mail customizer plugin available.
Features
Import and export are easy
It's easy to customize font size, font color, font color, and much more
Text, heading, and subtitle can be customized
An option for sending test e-mails
Displays live previews
Pricing
The Kadence WooCommerce E-mail Designer is available free of charge.
The WooMail WooCommerce e-mail customizer plugin has more than ten pre-built e-mail layouts. After the simple customization process, you can see how your customers will see the e-mail. If you want to ensure everything works as it should, you can even send a test e-mail.
It features simple-to-use shortcode support. Using this code, you can create a button and a significant portion of your e-mail.
WooMail WooCommerce E-mail Customizer's recommended items function is one of its most valuable features. In this way, you can boost sales by including additional items the buyer may find interesting in the e-mail.
Features
There are more than ten pre-built templates available
The use of shortcodes is unlimited
A feature of recommended products
Customization options are extensive
Pricing
A regular license for WooMail is available for $39.
VillaTheme's E-mail Template Customizer for WooCommerce helps users customize their WooCommerce e-mail templates effortlessly. The plugin offers a user-friendly interface with a live preview feature that allows users to see their changes in real time.
The plugin includes pre-built templates that you can customize based on your branding. You can edit the header, footer, text, color, and layout of your e-mail. In addition, you can include dynamic content like customer info, order info, and product info.
Overall, this plugin will be a great option if you're looking for the best WooCommerce e-mail customizer.
Features
Drag-and-drop option to move elements
E-mail test option before sending the real e-mail
Easily preview e-mails before sending
Template import and export option
Adding WooCommerce elements to WooCommerce e-mails
Pricing
You can purchase the plugin for $32.
WP HTML Mail is a WordPress plugin that enables users to customize their WooCommerce e-mail templates. Users can drag-and-drop e-mail templates to design and modify e-mails without coding skills using the plugin.
It also offers pre-built e-mail templates you can customize based on your needs. You can customize headers, footers, logos, and font styles in the e-mail.
You can preview your e-mail templates before sending them to their customers using WP HTML Mail's live preview feature.
Features
Multiple pre-built professional e-mail templates are available
The e-mail test mode is available.
Color and font customization options
E-mail customization option with logos, footers, headers, and more
Pricing
The plugin is free to use.
The Takeaway
That's from today's round-up about the best WooCommerce e-mail customizer plugin. According to our research, these are the best premium and free WooCommerce E-mail Customizer plugins. These plugins will help you increase conversions with your e-mail marketing campaign.
Therefore, choose the WooCommerce e-mail customizer plugin that suits your requirements. This way, you can modify e-mails according to your brand's style instead of sending them in a standard format.